Whether you're on the lookout for a charity ball or a historical masquerade, there's something exciting happening on Dec. 31 this year. Here are our picks for the top fun things to do in and near York, Pennsylvania, for New Year's Eve.
YYP & The Yorktowne Hotel's New Year's Eve Gala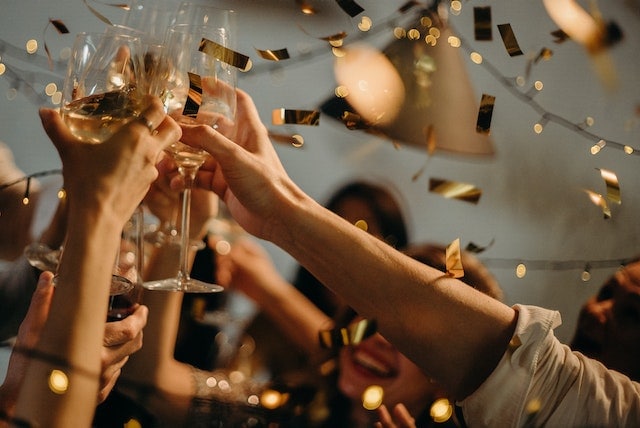 York Young Professionals (YYP) and the Yorktowne Hotel present The New Year's Eve Gala. Don your best costume and join the fun this holiday season at this masquerade charity gala. The hotel is newly renovated and provides the perfect backdrop to sip, sample, mingle, and dance until the ball drops. The theme for this year's black-tie event is "An Old Hollywood Masquerade."
One of the best reasons to attend this party is that you'll help support three charities while you celebrate, including YYP. This group's mission is to help make York an enjoyable and vibrant place to live, work, and play. There's also a silent auction that benefits the Shine Foundation. Arrive at the Yorktowne Hotel at 4 p.m. for hair and makeup sessions, then be ready for cocktails at 8 p.m. when the doors open.
Location: 48 E. Market St. in York.
Event hours: 8 p.m. to 1 a.m.
The Trolley House New Year's Eve Bash
What better way to celebrate New Year's Eve than with a grand opening affair? The Trolley House is opening its doors just in time for the occasion. This must-attend local event offers everything the big city destinations do, such as a scrumptious buffet with desserts, beer, claws, karaoke, and a champagne toast to ring in the new year. Buy a raffle ticket and win prizes, but no matter what you do, come in costume or just come as you are.
Consider booking a room at the Wingate by Wyndham York on State Street. This outstanding host reserved a block of rooms for partygoers, so you don't have to drive home after midnight. Call to book your stay, and make sure you ask for the Trolley House's discount rate.
Location: Lincoln Highway West in Thomasville.
Event hours: 8 p.m. to 1 a.m.
Baltimore Under the Stars New Year's Eve Yacht Party
Ring in 2023 aboard a luxury yacht. Baltimore Under the Stars will set sail on New Year's Eve for an epic party on the water. Find a seat on the Inner Harbor Spirit vessel and get ready for a three-hour cruise of a lifetime. Feel free to mingle on both decks as you listen to your favorite top 40 hits spun by the area's best DJ. A premium open bar, a dinner buffet featuring meat and vegetarian choices, and fun party favors are all included with your ticket.
This event's theme is the "Roaring '20s," so dress up in a flapper skirt or zoot suit and play the part of your favorite gangster. You'll love panoramic views of Baltimore's harbor and the city's skyline from the yacht. It's one countdown experience you'll never forget. You must be 21 years or older to attend this Great Gatsby-inspired party cruise. Leave your new Ford car or truck at the Harbor Court Garage next to the Royal Sonesta Hotel, then walk down to the pier.
Location: 561 Light St. in Baltimore.
Event hours: 9:30 p.m. to 1:15 a.m.
14th Annual Charm City Countdown Into 2023
Everyone at Charm City is putting on the ritz for New Year's Eve this year. So, grab a friend or foe and head to this outstanding charity gala. No one hosts a more entertaining evening than this organization. You'll enjoy an all-inclusive occasion with a gourmet dinner and world-class entertainment at the Hilton Baltimore BWI Airport Hotel.
The special event theme for 2023 is "One Night in Paris: A Parisian Fantasy," so use your imagination and come dressed in a French historical costume or cocktail attire. Then, stay and sip from one of several open beverage stations, including a martini bar, shooter bar, wine bar, and coffee bar. The menu features loads of delicious goodies, such as beef, chicken, oysters, and shrimp dishes that'll tempt your taste buds.
Don't miss out on all of this event's awesome activities. Its party zones include some of the city's best entertainment options, including a French cabaret, a royal ballroom, a karaoke lounge, a Parisian cafe, and a park with the Eiffel Tower. Finish the evening with a champagne toast at midnight.
Location: 1739 W. Nursery Road in Linthicum Heights.
Event hours: 9 p.m. to 2 a.m.
$10,000 New Year's Eve Bingo
Who doesn't love winning money, especially when you have your list of New Year's resolutions in the works? So, whether this payout would finance a dream vacation or fund your savings account for 2023, you can't miss the $10,000 New Year's Eve bingo event at the Thurmont Event Complex.
You don't need to wait until after dark to start your celebration either, because the doors open early at this party. Bring your appetite and dive into the delicious spread. You'll feast on roast beef, fried shrimp, mashed potatoes and gravy, green beans, and apple sauce for dessert. Seating is first come, first served, and proceeds from game ticket sales benefit Thurmont Community Ambulance.
Location: 13716 Strafford Drive in Thurmont.
Event hours: 5 p.m. to 1 a.m.
Host a Party at Home
If you and your guests would rather stay in on Dec. 31, consider hosting a lavish — or intimate — affair at your place. You'll need sparkling decor, such as confetti, balloons, and streamers, plus exciting party games that everyone will enjoy. Of course, we love good old-fashioned board games, including Scrabble and Yahtzee, and don't forget the party favors, noisemakers, and paper hats.
Next, you'll need to plan the menu. Delicious food is a must at any get together, but New Year's Eve is a bit different. This gathering isn't your typical sit-down dinner party, so stick with finger foods and dishes that don't require utensils. Remember to supply plenty of non-alcoholic beverages, too, in addition to traditional champagne.
No matter where or how you decide to spend New Year's Eve, get there in a new Ford. The friendly folks at Apple Ford of York want to know how you ring in the new year. Let us know, so we can share your idea with other locals.

People Toasting Wine Glasses by cottonbro is licensed with Pexels License