Schedule Ford Service In York, PA

When you're in need of certified auto repairs you can trust, head to Apple Ford of York. We employ certified Ford service technicians at our Ford dealership in York, PA, so you can rest assured that your Ford F-150 truck or Escape SUV is being well taken care of. Whether you're due for an oil change or tire repair, we'll go the extra mile to get you back on the road in no time. Contact Apple Ford of York to book a car repair appointment or simply schedule Ford service online at a time that's convenient for you.
If you're hoping to save on your next Ford brake service or battery replacement, browse the Ford service specials we have available. Plus, unlike other nearby auto repair shops, we use OEM Ford parts and genuine components whenever possible. Having trouble scheduling auto service online? Reach out and we'll set you up with a Ford oil change or tire installation over the phone.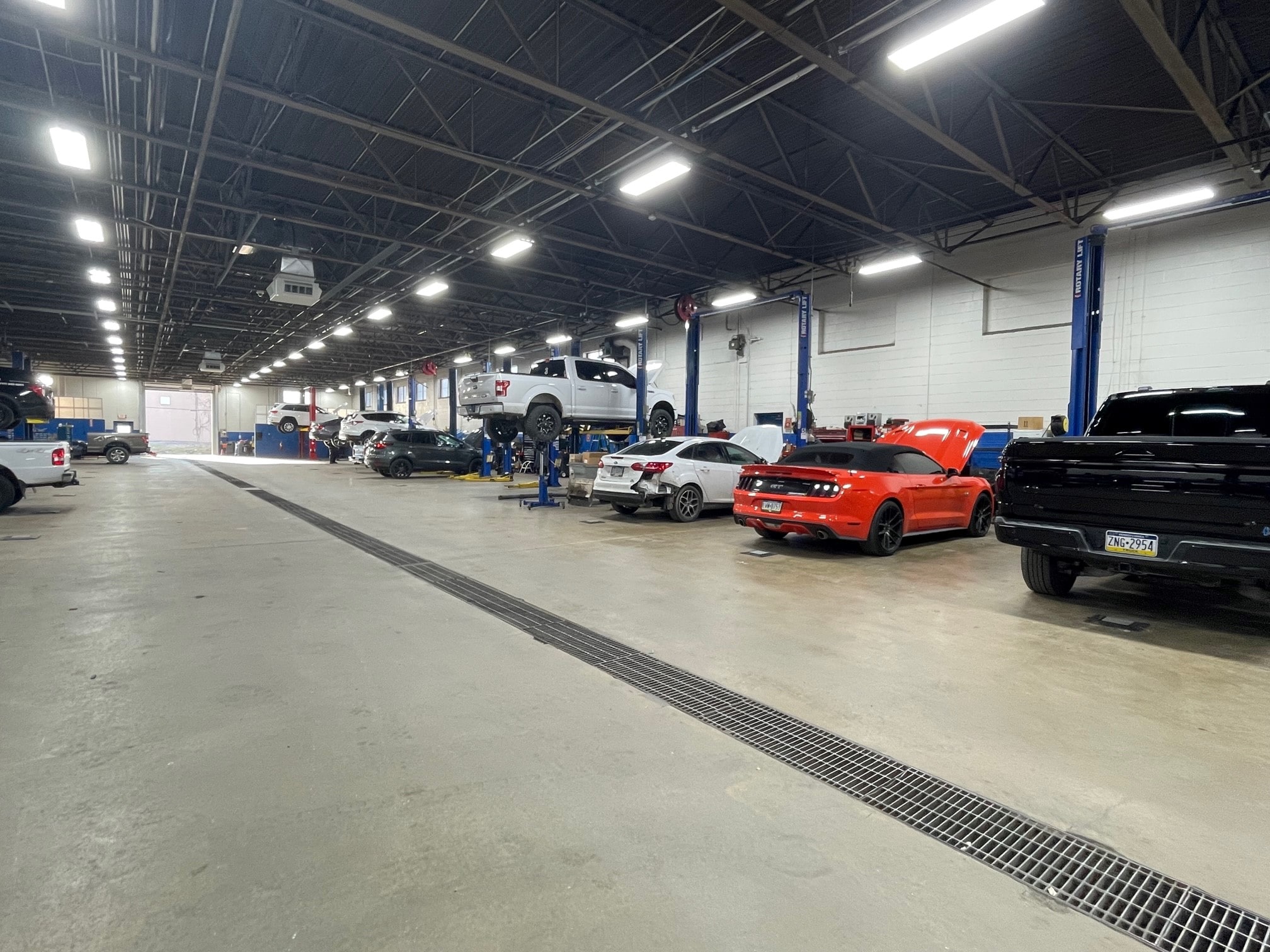 Servicing regularly helps you keep ahead of anything that could go wrong with your vehicle, meaning you're addressing issues before they develop, not simply responding to problems once they arise. If you're preparing for a road trip, want to make adjustments to your vehicle for the winter or summer, or have noticed anything wrong, at Apple Ford of York, Pennsylvania, you'll find a dedicated team of certified professionals waiting to help you. Contact us online, give us a call, or just drop by and let us know how we can help.
Servicing is about more than just oil changing and tire rotation. It's a process of regularly checking and monitoring that can help you keep your car ticking nicely, allowing you to get more mileage, greater efficiency, and many more years from your vehicle.
Why Service Your Vehicle?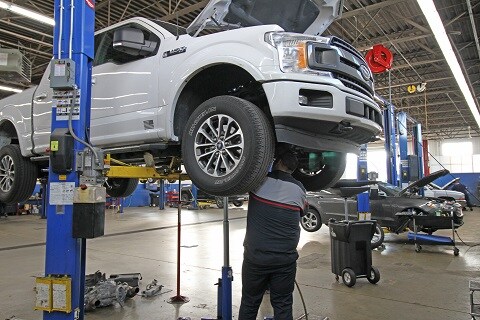 There are a number of reasons for it being a good idea to keep your vehicle serviced regularly. It helps you identify any issues before they develop into problems, giving you a heads-up on any signs of trouble. For example, trouble with brakes can be detected through inspections of the brake pads, and if it looks like they're close to being worn out, they can be changed before they cause any actual problems.
You always need to be sure that you can brake successfully in an emergency, so you must be sure that the brakes have appropriate hydraulic fluid, brake pads, and rotors.
It's also a good idea to make sure your battery isn't becoming weaker over time before you find out that your car won't start. Battery testing helps see if the battery is becoming weaker so you can change it ahead of time. Even if they don't find any problems, it may help to have a recharge. Technicians can also advise if the battery is the right fit for the vehicle.
No one wants to be caught with a sluggish battery that won't start when you need it, so this is another area where you can benefit from staying ahead of the game.
Likewise, you'd want to change your oil before old, dirty oil causes wear and tear problems rather than responding to any issues when it's too late. Changing oil helps remove any dirt that has built up in the engine from use that can form a kind of sludge. A clean engine runs better, more efficiently, and more smoothly with regular oil changes.
You can also benefit from other packages, such as tire rotation, which helps prevent the tires from wearing out unevenly and ensures that the tires are correctly inflated and the correct tires are being used for the vehicle.
Why Have Regular Services?
Having regular services also helps maintain the vehicle's value if you wish to sell it in the future. A car with a regular service history gives future buyers confidence that no problems are waiting to be uncovered once they've taken the vehicle home. At Apple Ford of York, we keep records of the services you've received, meaning that you're well looked after. Should you sell your vehicle, we'll endorse the service record, which will help you get the best price for your vehicle.
Additionally, it can be a good way of protecting your vehicle's value and ensuring your safety by getting winter tires or chains. Engine heaters can also make it more convenient to run the car in winter, meaning it's more likely to start. Conversely, in hot conditions, you may find that oil will be more likely to degrade, and engine overheating is more likely. Changing the air filter and the oil during regular servicing can help reduce the effects of extreme heat. In these ways, servicing can help you prepare your vehicle for either extreme heat or extreme cold.
Why Choose Apple Ford of York?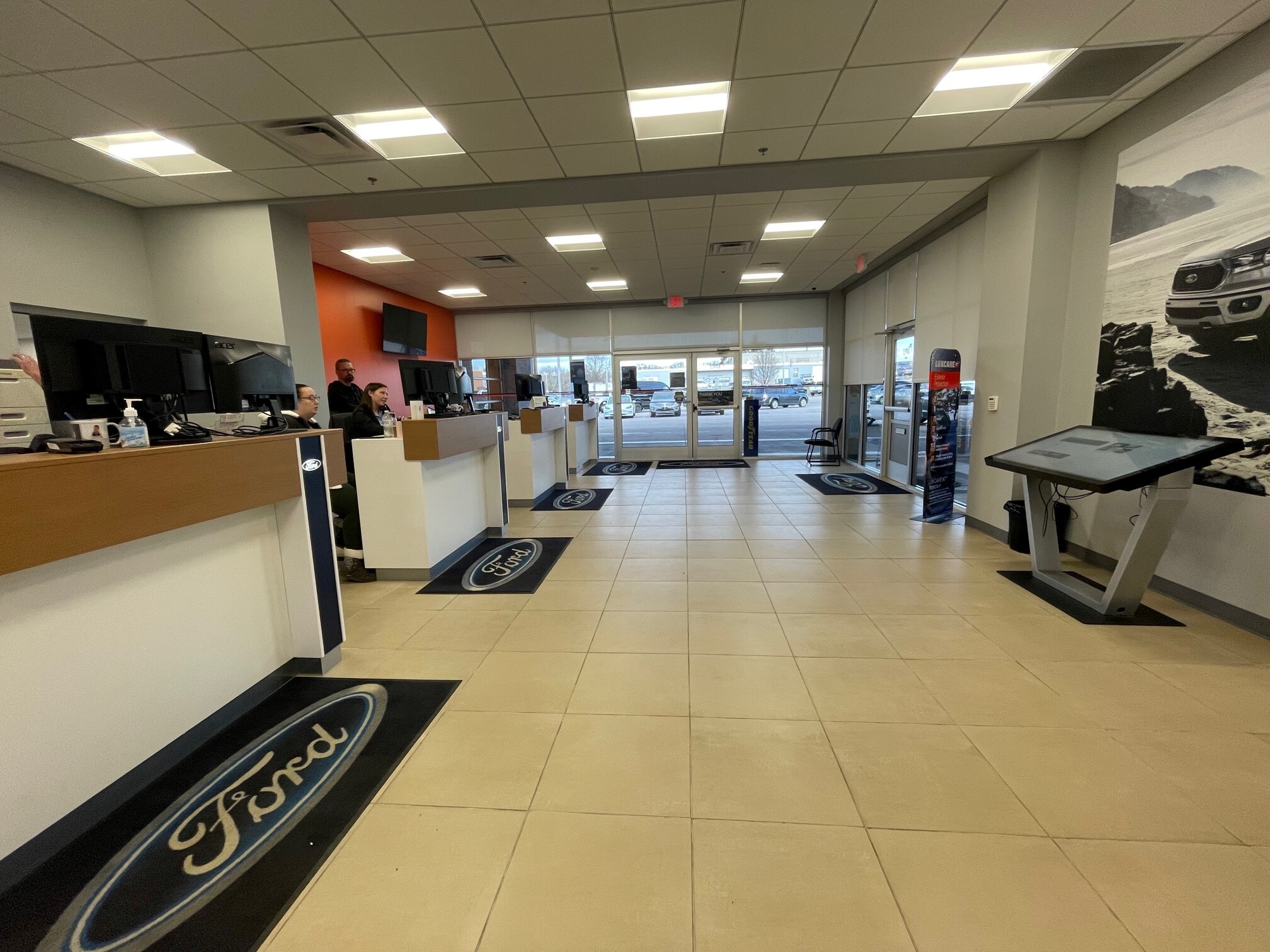 Apple Ford of York has a long history of providing expert services. A proven track record and a staff of knowledgeable professionals means that there are few things that can't be covered. Out technicians come highly trained and certified. You can also benefit from the selection of high-quality genuine Ford parts. What's more, if Apple Ford of York doesn't have the part in stock, provide your vehicle identification number, and we can find the best available parts at a competitive price. Ford-endorsed Omnicraft parts are also available that can provide Ford-backed parts for other vehicles.
We offer exclusive specials and competitive prices, giving us the edge in serving you. Also, try the free pick-up and drop-off service that can make having your car serviced a simple chore. It's also easy to schedule your service with Apple Ford of York. The online scheduling tool means you can use your laptop, desktop, or smartphone. You can also note any issues you may have seen with your vehicle on the online form, meaning that we'll be well aware of anything that needs addressing from the get-go. Simply search for availabilities and book the time that suits you best.
For professional servicing and maintenance, the team at Apple Ford of York has you covered. Providing everything from a quick oil change and battery replacement to more thorough bodywork repairs, a comprehensive set of options is available. You can leave your car to be serviced while you run errands or relax with the complimentary Wi-Fi, bottled water, and hot drinks. With Ford Quick Lane Service available at this location, you can pass through for a quick tire rotation or oil change. Whatever your service needs, you'll find it available at Apple Ford of York.   


Apple Ford of York
Local Ford Service Center
Serving: York, PA
Local Phone: 717-755-2911
Directions to Apple Ford of York
1801 Whiteford Rd, York, PA 17402
Tire Repair | Oil Change | Brake Service | Battery Replacement